(Texte en français plus bas)
I usually write my songs in English but occasionally one pops out in French, my native language.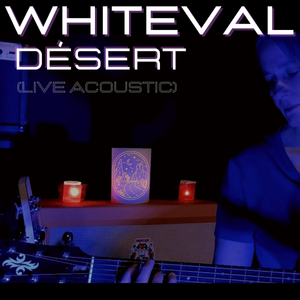 It seems that I am writing a bit more emotionally when I do so. Even though it's a bit further from my comfort zone than singing hard distorted rock, I also enjoy singing my material with just an acoustic guitar. There is something warm about it, deep and satisfying in a different way than rocking out. I feel calm and at peace when I sing my music that way. 
The theme of this tune is the crushing heartache of loving someone unavailable, who won't commit and who calls you to tell you about their other conquests. It's about being a slave to a toxic relationship that you seem unable to escape and whose loss is unbearable. It hurts that bad that you just want to disappear, your life having so lost its purpose that you may as well leave forever in a desert where you'll never be found. 
This recording is a live performance, so this is the real, one take thing, in all its vulnerability and emotion. 
"I swear if I lose you… I'll go to the desert and I'll never come back" 
-Whiteval 
J'écris d'habitude mes chansons en anglais mais j'en compose parfois certaines en français, ma langue maternelle. Quand cela arrive, il semble que j'écrive de manière un peu plus émotionnelle, et bien que cela soit plus éloigné de ma zone de comfort que de chanter du rock, j'ai aussi beaucoup de plaisir à les interpréter juste avec une guitare acoustique. Il y a quelque chose de chaud, de profond, de satisfaisant d'une manière différente qu'accompagnée avec un arrangement complet. Je me sens calme et en paix quand j'interprète ma musique de cette manière. 
Cette chanson parle du  sentiment dévastateur d'aimer quelqu'un d'indisponible, qui ne s'engage pas, et vous appelle pour vous raconter ses autres conquêtes. D'être esclave d'un amour toxique auquel vous ne semblez pas  pouvoir échapper et dont la perte est ressentie comme insupportable. Avoir le sentiment que la vie n'a plus de sens sans cette personne, qu'on pourrait tout aussi bien disparaître pour toujours dans le désert tellement on a mal au coeur. 
Cet enregistrement est une performance live, c'est donc une seule prise dans toute sa vulnérabilité et son émotion que je vous propose. 
"Je jure, si je te perds… J'irai dans le désert et je ne reviendrai jamais" 
-Whiteval
Watch "Désert (Acoustic Live)" Video
Listen/Buy:   
Also available on iTunes
Buy "Désert (Acoustic Live) Video