"You are mine (Inferno 44)" was recorded during a one night session on my good old eight tracks recorder, so what you get is the raw emotion of that night. 
Originally conceived to be  in a  6/8  time signature, I decided to turn it into a 4/4 version that night.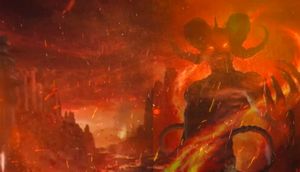 (The 6/8 version exists and will be released someday, it's actually even been played live at some point.) 
The song is about being in the dark space of possessiveness and jealousy, but the general atmosphere of the recording makes me think of a particular scene in the Disney movie Fantasia, "Night on Bald Mountain", in which a demon emerges from the peak of a mountain and raises the dead and all sorts of creatures. As a child I was very impressed, if not terrified by it. It was supposed to be a kid's movie and my parents certainly didn't suspect it would scare me that much. 
A sort of "Inferno" vibe is indeed emanating from this recording and is represented by a constant, recurring feedback noise throughout  the whole song. It's a lovely production idea that I'm very happy about. 
You can hear a lot of vintage gear in "You are mine (Inferno 44)". The sinister organ sound comes form a XP-50 Synth, the vocals were distorted with a GP8 multi-effect, and the drums are a RX-5 drum machine. The recorder is the Yamaha MT8X, except for some overdubs.
I am also pleased with the final guitar solo sound, a special recipe of mine that makes me think of the guitar/electric violin sound of the theme " Come to me" by Brad Fiedel for the original "Fright Night" movies. 
I indulged in the fantasy of shooting a video clip in my hometown's church. The fun fact is that I moved there the same year and month that bats arrived for the first time and nested under the roof of that church. I pictured myself dancing on the pastor's chair, at night, with a great light show and other people randomly moving to the sound of the music, like in a strange Wiccan ritual. But I doubt I would have been allowed the necessary Okay since the song is far from heavenly, so this will  remain between you and I. I concentrated  my efforts on coming up with a lyric video instead, that you can watch on here:  You are mine (Inferno 44) - Lyric Video
I hope you will enjoy "You are mine (Inferno 44)" as much as I enjoyed creating it. 
-Whiteval
Listen/Buy:    
Also available on iTunes