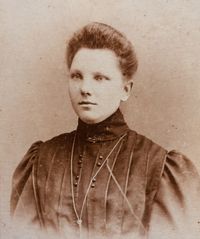 So this post is not my usual post about music. It's about the past, ancestors and healing.
(Vous pouvez lire ce post en français également plus bas)
The woman on the picture is my great-grandmother. Her name was Frieda Haudenschild. I feel like talking about her today because her life impacted several generations after her, including me. 
Her story started in 1887 in Swiss Germany and led her to Geneva at the time of World War I. This is where she met my great-grandfather, whom we know actually almost nothing about. He died of the infamous Spanish flu in the year 1918 or 1919 and even though she kept his picture in her bible almost until the end, she never spoke about him and informations are scarce. 
For some reasons that belong to them, they were not married, and had a daughter (my grand-mother). When he died my great-grandmother was heartbroken but also unmarried with a child at the beginning of the twentieth century, which was a big no-no at the time. She was left alone to fend for herself and for her reputation, and coming from a poor family that was actually not good for her there was no way she could get help from relatives. I think she had placed a lot of hope for happiness in this man and child, but unfortunately she couldn't enjoy it for long and her plans for her life were shattered absolutely unexpectedly. 
Frieda was a very religious person, a hard working woman, and she made it through on her own. But scars were left and it ruined her life, her daughter's life and her granddaughters' after that  in some way. I think she died with him that day and never got over it. 
They say that ancestors' trauma can be passed along to the descendants. It's called Epigenetics. I myself didn't suffer direct consequences of this story but I believe some attitude towards life was passed on to me through blood. Like a fear of rejoicing when something cool is happening to me, thinking it's too beautiful to be true and that it's going to be taken away from me before I know it. I have worked on this now because I had the opportunity to connect to my ancestors through channelling and I was told that they had experimented this situation as a part of their path and that I was not going to have to relive that myself. 
I'm pretty sure that there was no one there to hold my great-grandmother's hand when she cried over her dead man's body. And I'm sorry for that. I picture myself holding her and we cry together, so that we can heal, so that the family lineage can heal. I also have a vision of her being reunited with her man, looking over me. He wears glasses. But I still don't know his name. 
Do you also have a story to share about your ancestors?
-Whiteval
__________________________________________________________________________________________________________________
Aujourd'hui il ne s'agit pas d'un post habituel sur ma musique. Je parle du passé, de mes ancêtres et de guérison. 
La femme sur cette photo est mon arrière-grand-mère. Elle s'appelait Frieda Haudenschild. J'aimerais parler d'elle car sa vie a eu un impact important sur plusieurs générations, y compris la mienne. 
Son histoire commence en 1887 en suisse alémanique et l'a conduite par la suite à Genève au temps de la première guerre mondiale. C'est là qu'elle a rencontré mon arrière-grand-père, dont nous ne savons pratiquement rien. Il mourut de la fameuse grippe espagnole en 1918 ou 1919, et bien qu'elle ait gardé sa photo dans sa bible presque jusqu'à la fin, elle n'en parlait jamais et nous n'avons que très peu d'informations. 
Pour des raisons qui leur appartiennent, ils n'étaient pas mariés et avaient une fille (ma grand-mère). Quand il est  mort, mon arrière-grand-mère a eu le coeur brisé mais se retrouva aussi seule et non-mariée avec un enfant, une fille-mère, ce qui était très mal vu à l'époque. Elle a du se débrouiller seule et probablement dû supporter une forme de honte sociale. Venant d'une famille pauvre qui n'était pas bonne pour elle, elle n'a pu compter sur aucune parenté non plus. Je pense qu'elle avait dû placer beaucoup d'espoir de bonheur dans cette relation et cet enfant, malheureusement elle n'a pas pu en profiter bien longtemps et ses plans de vie furent brisés de manière absolument inattendue. 
Frieda était une femme très religieuse et travailleuse, et elle s'en est sortie toute seule. Mais cela a laissé des traces et ruiné sa vie, la vie de sa fille et de ses petites-filles après elle également d'un certaine façon. Je pense qu'elle est morte avec lui ce jour-là et qu'elle ne s'en est jamais remise. 
Il paraît que les traumatismes des ancêtres peuvent se passer aux descendants. Cela s'appelle l'épigénétique. Je n'ai pas subit de conséquences directes de cette histoire mais je crois que certaines attitudes par rapport à la vie m'ont été passée par le haut. Par exemple la peur de me réjouir si quelque chose de bien m'arrive, en pensant que c'est trop beau pour être vrai et que cela va m'être repris rapidement. J'ai travaillé là-dessus depuis lors car j'ai eu l'opportunité de contacter mes ancêtres par canalisation et il m'a été dit que cette situation appartenait à leur propre chemin et que je n'aurai pas à revivre cela. 
Je suis quasiment sûre qu'il n'y avait personne pour tenir la main de mon arrière-grand-mère quand elle pleurait sur le corps de son amour défunt. Et ça me fait de la peine. Je m'imagine la serrer dans mes bras et nous pleurons ensemble, afin de guérir, afin de guérir la lignée familiale. J'ai aussi une vision d'elle, réunie avec son homme, qui me regardent depuis l'autre côté. Il porte des lunette. Mais je ne sais toujours pas son nom. 
Avez-vous aussi une histoires à partager sur vos ancêtres? 
-Whiteval